Electronic scientific specialized edition "Social and economic problems and the state"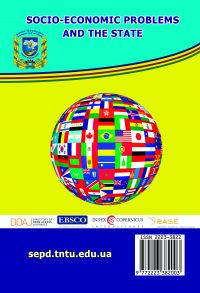 Scientific Journal

"Socio-Economic Problems and the State"

(Socìalʹno-ekonomìčnì Problemì ì Deržava)

 

The edition was founded in 2008 by Ternopil Ivan Pul'uj National Technical University and Academy of Social Management.




The journal is included to the list of scientific specialized editions by Decree № 2-05/1 of HCC presidium of Ukraine from 26 January 2011.




ISSN 2223-3822




Scientific specialized journal accepts for publication in electronic form scientific papers on governance, economic and social development.

Electronic scientific specialized edition is published by Ternopil Ivan Pul'uj National Technical University and Academy of Social Management periodically - 2 issues annually.

 
Subject areas may include, but are not limited to the following fields:

• Auditing

• Business research methods

• Business theories

• Capital markets

• Case studies

• Contemporary research in business

• Corporate governance

• Earnings management

• Economic growth and development

• Economics of organizations and industries

• Entrepreneurship

• Finance and investment

• Financial analysts

• Financial contracts

• Financial institutions

• Financial management

• Financial reporting

• Global business

• Human resource management

• Industrial organization

• Information technology management

• Innovations

• Insurance

• International economics

• International trade and finance

• Investment

• Macroeconomics

• Management information systems

• Market structure

• Marketing

• Marketing management

• Microeconomics

• Operations management

• Organizational behavior

• Production management

• Project management

• Public administration

• Risk management

• Strategic behavior

• Strategic management

• Total quality management

• Transition issues

• and others
Editor in chief
Doctor of econ. sciences, Professor,
Nataliia Marynenko
Editorial address:
Executive secretary of the editorial board
the journal "Socio-Economic problems and the state"
Ph.D., Assoc. Prof., Sherstiuk Roman
Ternopil Ivan Pul'uj National Technical University
Ruska street, 56, Ternopil, 46001, Ukraine
E-mail:seps.tntu@gmail.com
tel. +38 067 350 36 25